Low Carb Chicken and Vegetable Pie
Nutrition Information
Fat:

70.8g

Saturated fat:

28.7

Carbohydrates:

3.3g

Protein:

40.5g
The Low Carb Garlic Bread recipe doubles as pastry for these delicious pastie/pies.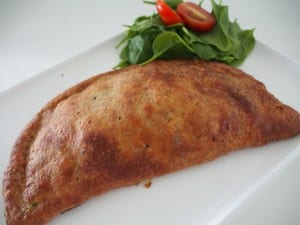 Ingredients
One recipe of Low Carb Garlic Bread
400g Chicken thighs cut into small pieces
1 Onion finely chopped
3 Garlic cloves chopped
1-2 cups of chopped vegetables (broccoli, grated carrot and zucchini, mushroom etc)
¼ cup cream
Salt and pepper
½ cup fresh coriander/parsley or fresh herbs of your choice
Instructions
Make Low Carb Garlic Bread and set to one side. Unlike traditional pastry that needs to be kept cold, sit this mixture at room temperature so it remains soft and pliable. Sauté chicken in coconut oil until well cooked. In a separate pan sauté vegetables until well cooked and softened but not over cooked. You want some texture and colour left in the mixture, add cream and cook for a little longer. Add salt, pepper and fresh herbs. Cool the mixture.
On an oven tray, lay out 1 sheet of baking paper. Roll the pastry into 15cm rounds and place around ½ cup of the chicken mixture on one half of the pastry round. Fold the remaining half of pastry over the mixture and seal the sides well. Bake at 180 C on Fan Bake for around 30 minutes or until pastry is brown and crispy. Serve hot with a green salad. Some Red Capsicum and Chilli Sauce goes well with these pies or try making some Lime Chilli Chutney.