Paleo Chocolate Coconut Slice
Nutrition Information
Serving size:

1

Calories:

160
Fat:

15.6g

Saturated fat:

8.8g

Carbohydrates:

1.7g

Protein:

3.4g
Prep time:
Cook time:
Total time: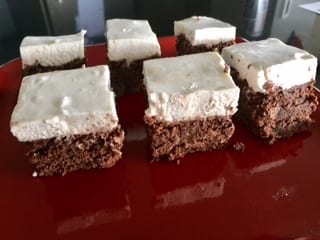 This Paleo Chocolate Coconut Slice is great with or without frosting. Easy to make, stores well and delicious with a cup of tea or coffee.
Ingredients
Paleo Chocolate Coconut Slice
Slice
2 Cups Almond meal
2 Tsp Baking soda
3 Tbsp Cocoa powder
½ Cup Coconut (desiccated)
3 Eggs
1 Cup Coconut cream
1 Tbsp Vanilla essence
2 Tbsp Natvia
Frosting
½ Cup Coconut cream
2 Tbsp Coconut oil
2 Tsp Natvia
60 Mls Coconut oil (melted)
1 Tbsp Vanilla essence
Instructions
Slice
Mix Almond meal, baking soda, cocoa powder and coconut together. Beat together eggs, coconut cream, natvia, vanilla essence and add to dry ingredients. Mix well (taste at this stage and add more natvia if needed), and pour into a 10 x 20 cm baking tray. Bake for around 20 minutes at 170 degrees until just cooked (firm to touch but still moist).
Frosting
Mix coconut cream, natvia, and coconut oil well and leave in fridge until it has set, or thickened slightly. Spread over cooled Paleo Chocolate Coconut Slice, and store in fridge to set. Cut into 4cm slices and return to fridge.