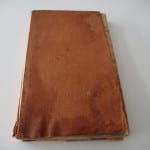 There are a few statements floating around that are framed to describe what low carb, wholefood looks like. A popular theory is that; 'if your grandmother recognises it then it's ok'.
I agree… to a point. My Grandmother, however, was well recognised for her yo-yo biscuits. Too young to remember Granny's baking first hand, I have fond memories of a special aunty who carried on the yo-yo tradition. Even now my mouth waters at the flavour and melt in your mouth texture! Unfortunately no amount of trial and error will allow me to re-create those delights to fit the low carb template!
My Granny's cookbook is a Pandora's box of stained pages, hand written recipes, crossed out and re written over years of experiment an improvement. Sugar and butter and white flour measured in ounces and pounds. Brittle newspaper clippings sellotaped in appropriate and not so appropriate places throughout. Like the ad for 25 pound suits from Bespoke Tailoring, and the article on 'lengthening short skirt hems' for girls with wardrobes full of 'too short skirts'.
Getting back to low carb. So Granny's recipes don't fit my low carb template. My Granny however, possibly made her own butter, collected her eggs from the chicken coop in the back yard, before mixing her cakes by hand, and baking them in an oven which most likely took a lot more skill and effort to control than it's modern day equivalents. If it happened to be a Monday, Granny would at the same time be heating the water in the 'copper' ready for a whole day of washing her family of six's linen and clothes. Between times the vege garden was weeded and hoed, and the usual dramas arising from a houseful of teens were addressed. I  know she polished her furniture and silver regularly as I have found recipes for both wood and silver polish in her book.
Very few packaged and processed foods would have graced her pantry shelves. Locally grown fruit was picked and preserved to last the family through the cold Christchurch winters, and I doubt whether there was a lot of sitting going on in Granny's day-to-day life. A marked difference from the typical 2014 household. As I sit and write this blog, my washing machine is on, my dishes are washing themselves, mail is arriving in my 'inbox'. In the last half hour I have achieved what Granny might have taken 2 days to complete. I've also done my 30 + of exercise and its not yet lunch time, and I've spent the equivalent of  a 1940's week's wages on paying someone to make me a cup of coffee!
So Granny, thanks for handing down your recipes, allowing me the joy of years rifling through the pages, instilling in me the knowledge that the art of cooking is what we make of it, how food can be sustenance for some and a gift to others. How recipes can be played with and manipulated to fit our needs and our beliefs, no matter what century we were born in. I don't imagine you ever dreamed that your recipes or 'intellectual property' would be blogged, downloaded, shared, maybe even tweeted, or that these activities would ever even exist. It might have surprised you that your granddaughter would have the luxury of enough hours in a day to sit at a thing called a computer and write a story about you!!
Your cooking was honest and wholesome, your ingredients fresh and often home grown. So yes I now concede that; 'if your grandmother recognises it then it's ok', …just as long as you are as mindful and active in your day as what your grandmother was.