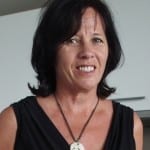 No food produced in my kitchen is immune to being primped, preened, garnished, photographed, posted, tweeted or pinned.  Most of these words have been part of my vocabulary for less than 12 months and in some cases less than 12 days. However, apparently living with a wife who spends a significant part of her day experimenting with recipes and producing amazing (that's my opinion anyway) and diverse meals on a daily basis, is pretty hard work.
My long suffering husband is tiring of having to wait for me to photograph our meals from several angles before he can start eating. His catch phrase has become;  ' I don't want to wait for you to take photos of our dinner; I just want to eat it. I am VERY hungry'.  Anyone who knows him will know that that this statement is peppered with expletives.
When the food hits the plate, however there are no complaints, and tonight my hard working husband is silenced by Coconut Chicken served with Iceberg Lettuce. Not a potato, serve of pasta, rice, or a slice of bread in sight!
On announcing that I am making Fresh Fruit Ice-cream for dessert, the expletives are directed at the noisy ice-cream maker. God forbid we would be exposed to 20 minutes of this admittedly noisy contraption. Relegated to the spare bedroom, the ice-cream maker weaves its magic and less than 15 minutes later, we have complemented a tasty and satisfying meal with a refreshing berry and coconut ice-cream. Not a grain of sugar to be seen and photographs have been taken.
Brett calls himself  'low carb by default' (my fault). His weight hasn't been this low since I met him 30 years ago. He hasn't actively tried to lose weight, but he has dropped at least 10 kg in the last 12 months. He still worries that the increase in saturated fats we have introduced recently might give him heart disease. I just tell him to trust me! He's worth more to me healthy than incapacitated by chronic disease!
Since I have been eating low carb, it has been a focus of mine to develop recipes using ingredients that most of us have in our cupboards. It has been easier than I expected. I still bake, roast, preserve and barbecue, and we eat out and entertain regularly. We enjoy a glass of wine or two with our friends and definitely enjoy our life together. The last statement he made before dropping off to sleep on the couch tonight watching My Kitchen Rules, was "mmm Julia, maybe you could try that mint ice-cream tomorrow night, looks bloody good!"