Low Carb Crumbed Zucchini Chips
Nutrition Information
Fat:

18.9g

Saturated fat:

2.0g

Carbohydrates:

2.6g

Protein:

6.1g
Recipe type:
Low carb Vege
Prep time:
Cook time:
Total time: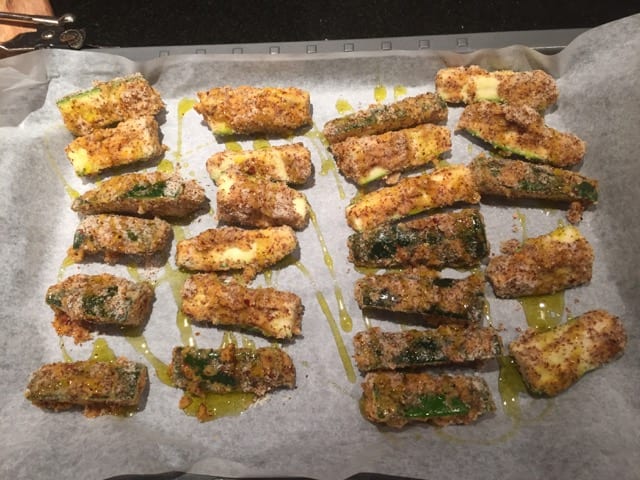 Low Carb Crumbed Zucchini chips are a great addition to a low carb meal. These Low Carb Crumbed Zucchini Chips are crispy on the outside but creamy and tasty on the inside.
Ingredients
4 large Zucchini
2 Eggs
1 cup Almond meal
Salt and pepper
¼ cup Olive oil
Instructions
To make these tasty Low Carb Crumbed Zucchini chips
Slice the ends off each zucchini, slice zucchini long ways down the middle, then slice each half, in longways again down the middle. Finally slice each strip of zucchini in half across the middle. Each zucchini will make 8 chips.
Whisk eggs slightly and place in a small bowl.
Place Almond meal in another bowl and add salt and pepper.
Dip each zucchini chip in egg, then roll gently in almond meal.
Place on a baking tray lined with baking paper. Drizzle olive oil over chips and bake at 180 degrees C, for around 20 mins. During this time, keep an eye on them and turn them over once. They should be nicely browned on each side.