Awesome Low Carb Chocolate Peanut Butter Slice
Nutrition Information
Serving size:

1

Calories:

204
Fat:

14.8g

Saturated fat:

6.9g

Carbohydrates:

4g

Protein:

3.5g
Recipe type:
Low Carb Dessert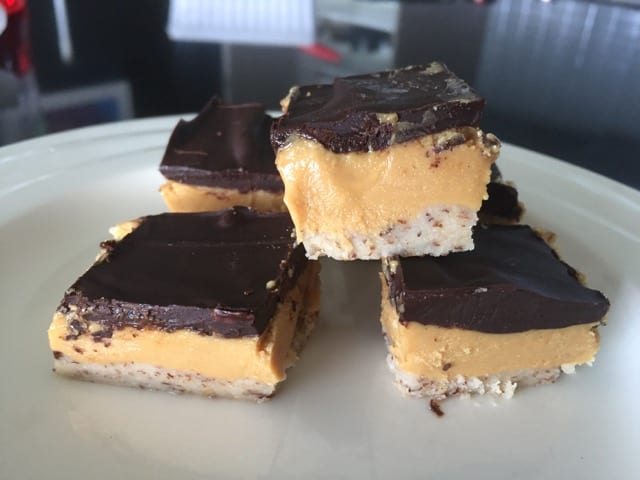 This Awesome Low Carb Chocolate Peanut Butter Slice is great for that creamy treat you need occasionally. Low Carb Peanut Butter Slice requires a little bit of work but is definitely worth the effort.
Ingredients
Base
½ cup Almond meal/Almond Flour
2 tbsp Coconut oil - melted
⅛ tsp Cinnamon
Filling
¾ cup Peanut butter (smooth)
¼ tsp Natvia
1 tsp Vanilla essence
¼ cup Coconut oil
Topping
100g Dark chocolate (85% cocoa)
2 tbsp Butter
1 tsp Vanilla essence
Instructions
Mix almond meal, cinnamon, and 2 tbsp coconut oil until well combined. Press into a 20cm x15cm dish (lightly grease the dish first). Place in fridge to set.
Melt ¼ cup coconut oil. Remove from heat and add peanut butter Natvia and vanilla essence. Stir until well mixed. Pour over the chilled base.
When the peanut butter mixture has set make the topping.
Melt chocolate, butter and vanilla over a low heat. Stir constantly. When melted remove from heat and pour over the peanut butter slice.
Return to fridge until firm. Cut into small slices, you only need a small amount of this Awesome Low Carb Chocolate Peanut Butter Slice, and store in a container in the fridge. This slice needs to stay in the fridge. In the hot temperature it will melt quite quickly as the only thing keeping it firm is the coconut oil.