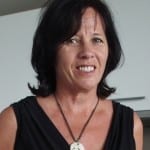 I have a new friend, his name is Luca and he is Italian. The meals we have shared with Luca and his wonderful family have taught me everything I need to know about the Italian way of cooking, eating and sharing.
I'm pretty strict with my low carb lifestyle but when Luca invites us for pizza my dietary theories fly out the window and I say 'YES'!!
When Luca cooks pizza the flour flies, the dough rises, is beaten down again, the toppings are combined, there is talk and love and passion poured into those pizzas. And if you are picturing that long Italian table laden with food and wine, intelligent discussion, forget it! The pizza rarely makes it to the table! We crowd around the bench where Luca has placed his latest pizza, hot and smoking from the grill. He slices generous portions and explains his latest combination of ingredients, while rolling out his next ball of dough and placing his next creation on the barbecue. The bases are thin and melt in your mouth, my favourite topping; prosciutto and rocket, placed on a steaming bubbling base after it is cooked. Tonight Luca allowed me to slice the pizza myself for the first time. He showed me how to peel the prosciutto, one sliver of prosciutto to one slice of pizza, then a handful of rocket scattered over. There is silence when we all take our first mouthful, followed by groans of "oh my god" and laughter and appreciation. Yes there is wine and plenty of it, and the talk and laughter flow long after the last pizza has been sliced and shared.
And when asked to take dessert to Luca's, do I prepare my Low Carb Lemon Cake or Raw Berry Slice, hell no (although they are great desserts). No I pull out the big guns and make my own family's favourite. Apple crumble, mixed by hand; butter, sugar and flour rubbed together, crumbled over cooked apple and served with custard. My apple crumble is a dessert that just shouldn't be tampered with, leave it be and just enjoy.
Will I eat apple crumble or pizza tomorrow? No. Tomorrow I'll be back eating low carb, and that is the beauty of fully believing in your own food choices. I don't deprive myself of those old favourites all of the time, but I don't indulge often either. When I do though, I eat, I enjoy and move on. Anyway, Luca promises me that in his home I am immune from carbs!
Low carb his pizzas are not, but what I have learned from Luca goes beyond the intricacies of my own theories on food. There is history in Luca's pizza, and there is love and laughter. Dining with Luca and his lovely wife and daughters can dull that ache I feel when I miss my own family and friends in NZ. Luca's pizzas make my soul healthy and that is where health really does begin.