Simple LCHF/Low carb Creme Brûlée Recipe
Nutrition Information
Serving size:

1

Calories:

316
Fat:

33.8g

Saturated fat:

20.8g

Carbohydrates:

1.4g

Protein:

2.6g
Prep time:
Cook time:
Total time: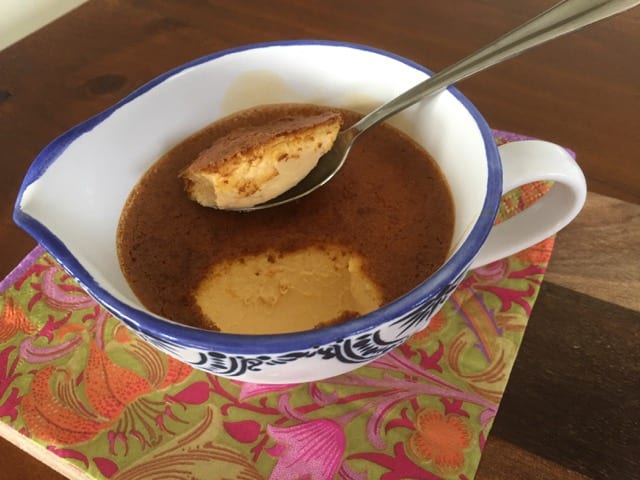 This Simple LCHF/Low carb Creme Brûlée Recipe is so easy to create. No culinary skill required!! Creme Brûlée is one of my all time favourite desserts, and this Simple LCHF/Low carb Creme Brûlée Recipe has allowed me to create my own whenever I feel the urge!!
Ingredients
3 Egg yolks
1 cup cream (full cream)
1 tbsp Vanilla essence
1 tbsp Natvia
Instructions
Heat oven to 160 C.
Beat egg yolks, Natvia and vanilla essence until well beaten (I placed them all in a blender and mixed for several seconds). Heat cream in a heavy based saucepan. Stir regularly and do not allow to boil. When cream is hot (but not boiling), add slowly/gradually to the egg mixture, stirring constantly.
Pour mixture into 4 ramekins/ or small coffee cups. Place ramekins in a baking dish and pour boiling water into the dish (around ramekins) until the water is around half way up the ramekins. Place in oven and bake for 30 mins (they should be firm to touch and slightly browned on top). When cool, place in the fridge.
Note that I have not made a traditional Creme Brûlée topping. I like to keep my recipes simple and easily achievable. This is a great tasting, and simple to make, Low Carb Creme Brûlée recipe.