Low Carb Peanut Butter Fudge
Nutrition Information
Serving size:

1

Calories:

39
Fat:

3.9g

Saturated fat:

2.4g

Carbohydrates:

0.5g

Protein:

0.7g
Recipe type:
Sweets/dessert
Prep time:
Cook time:
Total time: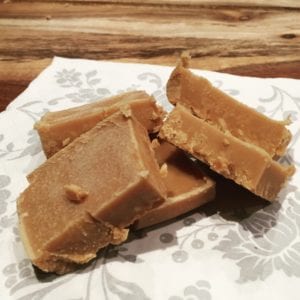 Peanuts are essentially a legume, so are a bit high in carbs. We only tend to eat a small amount at one time, so this Low Carb Peanut Butter Fudge is a great guilt-free low carb treat. Alternatively replace peanut butter with almond butter.
Ingredients
2 Tbsp Peanut Butter
2 Tbsp Coconut Oil
4 drops Vanilla essence
¼ Tsp Natvia
Instructions
Melt peanut butter and coconut oil over a gentle heat. When melted as vanilla essence and Natvia and mix well. Pour into a small slice dish and leave to set in the fridge.